Information about the procedure of inserting Dental implants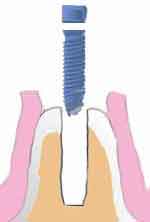 Gum is cut open, hole drilled into the jawbone with a thread.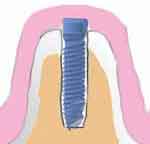 Dental implant (titanium bolt) is screwed in and gum sewed up.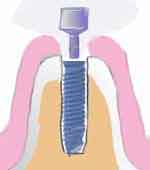 After healing period of 4 to 6 months gum is spaced out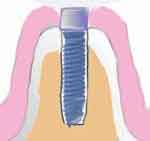 and the healing
abutment screwed into place and stays there for 5 to 7 days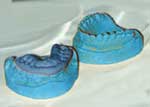 Casts are made for the lab to make the tooth or crown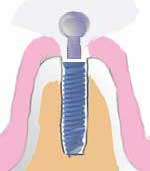 In place of the healing abutment the definitive abutment is screwed into place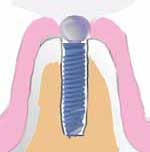 Here is the definitive
abutment in place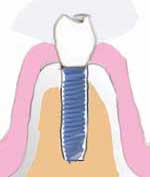 The ceramic tooth or crown is fixed onto the definitive abutment



This is what a final X-ray of the completely inserted implant and fitted tooth (crown) might look like.
Dental Implants :
Teeth That Look and Feel Like Your Own
What is a dental implants for ?
Dental implants are used to replace a missing tooth or to support other teeth objects such as a bridge (more than one missing tooth), dentures, or even to replace a whole row of missing teeth.
What makes up a dental implant ?
Dental implants are made up of an artificial tooth root (the implant bolt) , usually a titanium bolt, that is screwed into the jawbone, a top part to hold the crown (abutment) and crown or a bridge is then fitted onto the bolt.
How are dental implants inserted ?
Inserting a dental implant is actually a very simple procedure and mostly done under local anaesthetic.
An x-ray is taken to decide how long and thick the titanium bolt should be.
The titanium bolt is ordered - usually these are made in Sweden but stocked in various deposits in Prague and throughout the Czech Republic but most Czech dentists have an ample supply of implants on hand in their dental studio.
The gum is cut open where the implant is to be inserted and the jawbone gets a screw threaded hole drilled into it.
The titanium bolt - the dental implant - is screwed into the hole.
The top of the bolt gets a capping screw screwed into it to keep the top screw thread clean.
The gum is sewed up with a couple of stitches which are removed about 10 days later
[ the removal of the stitches can be done back at your local dentist if you are coming to the Czech Republic to get implants ]
Then a 2 to 5 month healing period ensues during which the titanium bolt is accepted and incorporated into the jawbone.
2 to 3 months healing period for the lower jawbone and 3 to 5 months healing period for the upper jawbone.
This healing period is basically called bone connecting
[ osseointegration ]
After the healing period the gum around the protruding part from the jawbone of the bolt is enlarged and a cylindrical bolt is screwed onto the bolt.
This is called a healing abutment which serves to make room around the top part of the bolt within the gum, spacing out the gum a bit so that the final crown or tooth can then be fitted.
When the healing abutment is fitted, a teeth cast is taken and the lab can go ahead and create the tooth or crown to be placed on top of the implant
The healing abutment is kept in place for about 5+ days.
After 5 days the healing abutment is unscrewed, the definitive abutment is screwed in place.
The definitive abutment is the final top part of the titanium bolt onto which the ceramic tooth or crown will be fitted.
The final tooth or crown is fitted onto the definitive abutment.
Done.
How long does it take to insert (to implant) an implant ?
Standard time of this treatment is about 40 minutes for each implant.
For what are Dental Implants useful ?
Dental implants can support dentures in a secure manner
Dental implants can support a bridge spanning more teeth without relying on support from other teeth
Dental implants serve mainly to replace one or more non adjacent missing teeth
What kind of implants are used ?
In the bone [ endosteal ]:
Probably the most used dental implant type and these are made up of the titanium bolt screwed into the jawbone, the healing abutment, definitive abutment (top part of implant onto which the final tooth is screwed ) and the final tooth which is a crown or front tooth lab-made from ceramic.
Each implant of this type can support one or more teeth.
On the bone [ subperiosteal ]
Used mostly in cases where the jawbone is too thin or minimal to have an implant screwed in - or when a bone graft is not possible.
Placed on top of the jawbone with the metal post(s) coming through the gum to hold the teeth.
Who might want to get a dental implant ?
Dental implants are an ideal option for people who have lost a tooth or teeth due to periodontal gum disease, due to an injury, or any other reasons where a tooth is either missing or judged too frail and is removed.
Teeth fixed upon dental implants have the advantage over bridges as they do not rely on adjacent teeth for support and are held by the actual implant riveted into the jawbone.
Although the insertion of an implant can be a little more complex than repairing a tooth by a crown or a bridge - or even false teeth - the actual end result of an implant is a real like looking tooth, identical in colour to the other teeth and is very stable as it is joined to the jawbone via the titanium bolt hence offering the confidence that one does not get with bridges or false teeth.
Implants can last a lifetime and once an implant and the topping tooth are in place - you really never have to worry about that tooth again.
No decay, no need for future fillings, and if the crown were to split, a new one can replace it with no more riveting.
What are the advantages of dental implants over false teeth
[ dentures ]`or bridges and even single crown replacements ?
Implants - teeth fixed on bolts which are screwed into - hence part of - the jawbone - are integrated into the jaw bone and avoid the gum recession or even bone loss when bridges and dentures are used.
Dental implants are stand alone one tooth per time and do not infringe on the structure and strength of adjacent teeth.
Which means that more real teeth are not fiddled with which is long term benefiting to your health.
As opposed to dentures - implants feel like real teeth, part of your mouth, gum, and jaw and hence offer chewing and wearing confidence which dentures do not offer.
Implants don't wobble, rock, creak, or feel unstable and you don't have to put them on the night table along with denture glue.
Dental implants are reliable with a high success rate and lifetime durability
Basically dental implants offer more comfort and much less bother than wearing removable dentures, add to improve speech whereas dentures impede clear speech, are more convenient as they do not need to be removed when eating, sleeping etc.
Also dental implants add more confidence and self esteem.
And even though dental implants may be more expensive initially than crowns or bridges, in the long run they are real value for money as they can last a lifetime - meaning once done you don't need to have them replaced or fixed after 10 or 30 years as may be the case with crowns.
Value for money in the Czech Republic for implants is even more value as the average cost of a dental implant in the Czech Republic is around 900 Euro as opposed to 2000 pounds in the UK.
Why are dental implants made of titanium ?
Being bio compatible, which means the body can get along with it, Titanium is used for implants as the body immune system does not recognize it and hence permits the Titanium bolt to grow together with the jawbone without rejecting it.
For example, if you get a splinter in your thumb and leave it there, the body immune system will do it's utmost to fight this unbody-material.
The part will swell, will hurt to alert you that something's up, pus may form and everything under the moon will happen so that the splinter is ejected, or you made to remove it.
This will not happen with a properly inserted Titanium dental implant into the jawbone.
Read a real life account of how Pete got an implant
Read more about implants, after implantation effects, and implant costs in the Czech Republic in our dental costs and treatment explanation section