Diobe - Brno dental stomatology clinic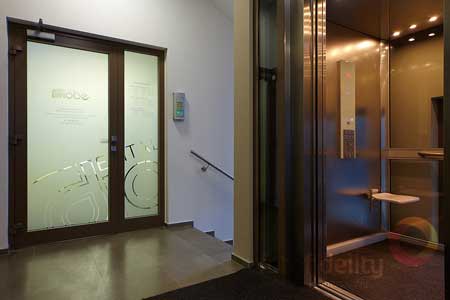 The Diobe dental clinic is a newly created stomatology
clinic in the newly built Magnum building in Brno,
on the Orli and Benesova street intersection.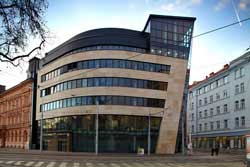 We have two dental surgery rooms, a dental hygienists
area and one operating room for implantology and dental surgery.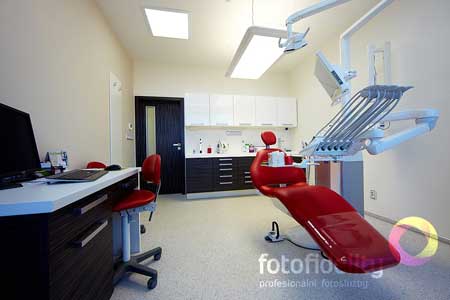 Our clinic has up to date diagnostic technology, including
the digital 3D CT for complete and perfect viewing of
the bone structures of the jawbone using technologies
and x-ray machine Planmeca in each surgery.

Dental treatments in our clinic are undertaken using the most modern therapeutic techniques, materials and know-how, including laser therapy, ultrasound bone surgery, plaque and tartar removal with sanding using the AirFlow technology.
Part of our clinic is also an in-house dental lab - where we create and prepare crowns and bridges for our patients - with technician experts in dental implantology.
The dental lab also uses the Cad/Cam system - used for the fabrication of full ceramic crowns and bridges aided with computer and a 3d scanner.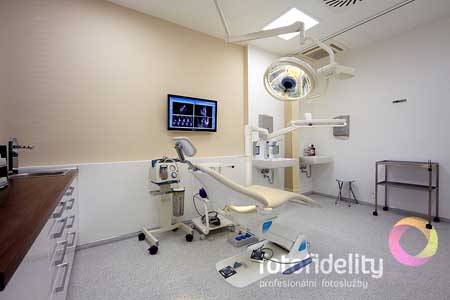 We obviously offer dental treatments included in the whole general spectrum of standard dental treatments, periodontology, dental implantology, oral surgery, aesthetics stomatology and endodontics, which is root canal treatment.

We also offer treatment on recommendation from the patient's own dentist mainly in the area of implantology where we use the Straumann implants brand and technology.
Also oral surgery is offered such as teeth which are deep inside the jawbone - like wisdom teeth, reparation of the gum prior to placing dentures, removal of smaller bones and teeth roots.

Implantology
Dental implantology is today a reliable
method for substituting teeth.
Specialized clinics and surgeries are able to use quality implantation systems to reconstruct your teeth targeting functionality, aesthetics and durability.
With dental implants we can correct and repair
any teeth and bite fault.
As a synthetic root, the implant creates a
stable and durable base for dental crowns,
bridges and even dentures.
Implants also add natural chewing strength in
the jaw bite, and help avoid further bone loss in
the jawbone under dentures.
Also, dental implants are an elegant solution
for filling in gaps of missing teeth - for example the
loss of front teeth after an accident, or a group of teeth -
usually to the back of the jaw.
In the case of loss of the back teeth, often the
patient will be offered partial dentures,
These - in the top jaw, can initially be a satisfactory
solution, but in the lower jaw, the firmity and grip of
the lower partial dentures can be problematic - due
to the smaller supporting area of the lower jaw area
and also the movement of the lower jaw.
The result can be an insufficient capability of
chewing and biting, with painful swellings and less
confidence in eating and even speaking.
With the pressure of the dentures on the gum, and
on the underneath jawbone the whole situation
can worsen in time.
The perfect solution for this is fixing the dentures on
at least two implants which assure a strong fixing hold.

In many cases it is possible to reconstruct the
whole jaw and teeth structure using implants - in the
upper jaw from 6 to 8 implants, and in the lower jaw 5 to 6 implants and placing a fixed bridge onto the implants.
In cases of bone loss in the jawbone, it is normal to
augment / increase the loss with artificial
(BoneCeram fy Straumann) or substitute bone
material (Bio-oss fy.Geistlich),
In cases of a larger deficiency of bone in the intended implantation area, usually a small piece of bone material
is taken from the patient himself - from the area of the
bone under the lower wisdom teeth area, to use as
bone filler material where there is bone deficiency.
In the back of the upper jaw, bone can also be
augmentated on the lower part of the palate cavity -
called a sinus floor elevation.
We use Swiss implants Straumann, which are
amongst the most quality worthy implants worldwide.
The implantation surgery is done in our operation room,
mostly under local anaesthetic.
In cases of need or patient's desire, we can also
operate under a lighter form of general anaesthetic.
For the implantation examination - we use digital 3D CT
xray technology, which shows the implantation area
in three dimensions, to allow us to be as precise as
possible in the actual implantation.

Dental implantology costs:
Implantology consultation: 600 czk
Examination 3DCT: 500 to 1.500 czk
(depending on number of implants)
Implantation - placement of implant: 15.000 – 17.000 czk
(depending on where and on which jaw)
Crown on implant - including abutment: 9.800 czk
Fully comprehensive bridge
fixed onto 2 implants - all inclusive: 46.000 czk
Fully comprehensive bridge fixed onto 6 implants -
all inclusive: 185.000 czk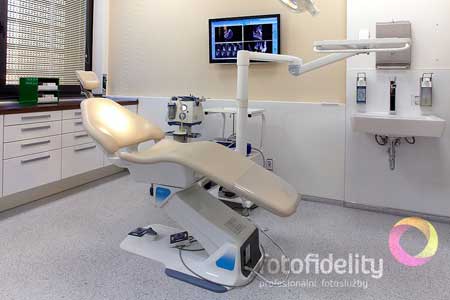 Oral Surgery
Our clinic offers and executes surgical operations in the
oral area.
Mainly extraction of teeth which have not come through
the gums - such as deeply embedded wisdom teeth,
Removal of smaller bones and roots, and smaller growth
of the palate, lips, gums, and skin such as cysts,.
We also repair gums prior to applying dentures to the patient.
For oral surgery we use both classical drill technologies
as ultrasound instruments (EMS, PiezoMasterSurgery),
which is less demanding on the patient and causes less complications during healing.
For gum operation we use laser which causes no
bleeding at all during use, and can hence be used
with patients who have coagulation deficiency.
To offer more comfort during operating, even to calm
down a stressed patient, alongside local anaesthetic,
we can give analgesic sedation - a lighter form of
general anaesthetic.
Anaesthetization of any form is given by a specialist anaesthetist who also manages post operation care
and supervision after surgery.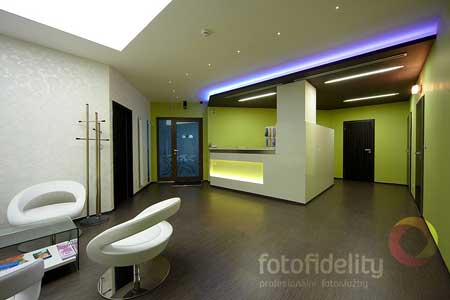 Our team:
Chief dental surgeon : MUDr. Tomas Caslava, Ph. D.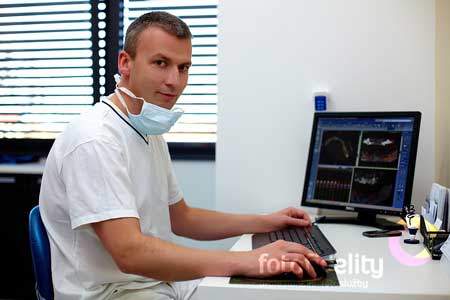 graduated in 1994 at Masarykov University in Brno in stomatology
In 1995 he also graduated in general medicine
In 2004 attained specialization for oral, jawbone and facial surgery.
In 2008 attained his Ph. D.
From 2008 to 2011 took over the role of primary doctor of the clinic of Maxillo-facial surgery in Brno, where he works today.
He is a member of the association for maxillo-facial surgery,
member of the international organization for implantology ITI
International Team for Implantology based in Bern Switzerland
And member of the international association of
osteosynthesis AOCMF.
He also took part in many medical congresses and tuition courses targeted at facial and oral surgery and dental implantology.

He also obtained the "Master Course in GBR and
Sinus Grafting Procedures" at Bern university.
Also took part in instructional courses for dental surgeons,
in the sector of dental implantology as in organizing
courses on implantology for the czech stomatology chamber.
Colleagues
MDDr. Monika Kanovska
became a general dentist at the Masarykova
University in Brno in 2010
Her specialities are aesthetic dentistry,
endodontics and prosthetics.
She is also an assistant at the Brno stomatology
clinic where she teaches dentistry students.


Petra Bielczykova, dental hygienist
Iveta Hajkova, nurse
Radka Frybortova, receptionist
Tomas Strnad, dental lab technician.
Other dental treatment prices:
Perliminary exploratory examination: 600 czk
Dental plan: 1.800 czk
Photocomposit filling: 700 - 1.100 czk -
depending on size of filling
Root canal treatment - 1 root canal: 1.200 czk
Surgical removal of deeply embeded tooth: 700 czk
Surgery when periodontosis present: 2.370 czk
Bone augmentatio - bone graft: 6.900 czk
Dental inlay: 1.727 czk
Metalceramic crown: 5.571 czk
Full ceramic crown: 7.571 czk
3 tooth full ceramic bridge: 13.200 czk
Complete dentures: 8.352
Hygienist cleaning: 670 czk
Teeth cleaning with ultrasound: 670 czk
Teeth cleaning with AirFlow - one jaw: 500 czk
Teeth whitening in surgery: 4.500 czk
Teeth cleaning kit - to use at home: 2.000 czk