Dentist
Doctor Bulicek
Dental surgery address:
Mudr. Milos Bulicek
Dolni Loucky 296
594 55 Dolni Loucky
Dolni Loucky are about 30 km distant from Brno
and 6 km after Tisnov.
See map below.

Dental treatment bookings :
Tel. +420 549 440 127
Please phone in the mornings, otherwise leave a message o write me via email:
milosbulicek

seznam.cz
We speak:
English
Click on map to
see where we are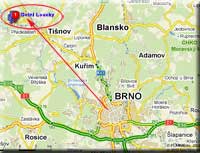 x
Hello,
I am a general dentist with 35 years experience
and offer the following dental treatments in my
dental surgery 30 km from Brno :
Full ceramic crowns

Metal ceramic crown bridges
Faceted crowns

Temporary resinal bridge or single teeth
Dental inlays of metal or glass fibre pins

Amalgamate filling with local anaesthetic

Photocomposit filling with local anaesthetic

Photocomposit build up

Simple extraction with local anaesthetic

Complicated extractions

Prothesis ( dentures),

Partial Prothesis (partial dentures)

General exploratory visit

Plaque cleaning tartar removal
Oral X-ray and analysis
My dental treatment prices structure can be found here

You can send me an email describing your dental
situation and we can take it from there.
I speak english, and look forward to hearing from you.
Mudr. Milos Bulicek