JS LAB and
Brno Dentists Group
Brno

Dental treatment bookings :
Tel: +420 777 553 226

email: sedlacek

jslab.cz
We speak: English

Director JS LAB Mr. Sedlacek


Doctor Velcevska

Doctor Kolik


Doctor Stejskalova


Doctor Kahanek


Doctor Kralova


Doctor Novotny


Doctor Kratochvilova


Doctor Nemec


Doctor Sandrockova
x
Brno dental lab with dentists
JS dental lab is a modern top of the line technology dental lab based in Brno, and is the nucleus of a group of dentists who cooperate with us.
Between our professional production of dental crowns, bridges and all other dental prosthetics and restorations and the group of dentists we work with we can offer you top dental treatment results, short dental treatment timelines and competitive dental treatment costs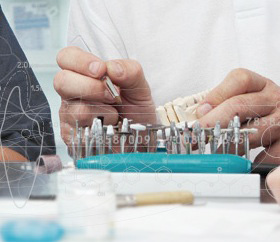 About JS dental lab.
From the very beginning of founding my own dental laboratory I have emphasized that in addition to using high-quality materials and technologies, the most important factor is to have qualified, skilful and experienced dental technicians.
In addition to the qualities mentioned above, this job requires a great deal of patience and accuracy.
We try to create the best possible working environment and conditions to allow our dental techs to focus fully on their demanding creative work. This considerably contributes to the quality of the dentures we make. After 16 years since its establishment, the JSLAB consists of a high-quality team of experienced dental technicians, which under my management strives to provide the highest quality services of contemporary modern dental prosthetics to all patients and dentists.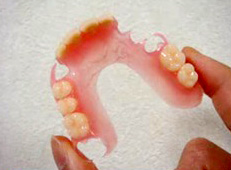 About removable dentures:
Revolution in the removable denture manufacturing process
User convenience and comfort brought by Deflex flexible dentures are incomparable to regular resin prostheses, which have been made for more than 60 years. Advancements in the development of plastic materials, which replace metals in many spheres of human activity, bring this possibility to the field of removable dentures manufacturing as well.
Polyamide is elastic, thus it does not crack, and it does not need to be metal-supported and even replaces metal clips. Thanks to its elasticity, retention polyamide clips can be located distinctively under the maximum teeth convexity and therefore the denture does not fall out and holds on tight. These clips are visible by close inspection only. Polyamide does not contain any allergens. Any detergent can be used for cleaning. It is not porous and does not absorb moisture, not even after long-term use unlike Flexite, which is another, older system of flexible dentures.
Flexite sometimes became swollen with incorrect manipulation after approximately one year of use, dentures cracked and even processing was difficult. The JSLAB therefore waited for the producers to come up with a better-quality system that we could offer to our doctors and patients without any worries. Deflex flexible dentures meet our high expectations and we are convinced that our customers will be satisfied as well.
Metal-ceramic crowns and bridges
For more than 50 years they were the highest quality option for making a fixed denture. Only in this century have all-ceramics started to overtake the dominant position. Texts comparing these two technologies could give you the impression that metal-ceramic prostheses do not look good. But that is not the case. Even metal-ceramic dentures can look very natural. Much depends on quality cooperation between the dental laboratory and the dental clinic. Metal-ceramic works will long remain the most common and most wide-spread type of dentures i.a. due to its lower price. Metal-ceramics distinctively surpass faceted dentures, which were the most common denture type before the Velvet Revolution, in terms of quality and aesthetic possibilities.
And even earlier, in the very beginnings of the "third teeth" manufacturing, these dentures used to be made of sheet metal, now all-cast crowns are in use.
Simple comparison of visible differences
between denture types using media examples:
All-cast crown = radio
Faceted crown = black and white TV
Metal-ceramics = color TV
All-ceramics = Plasma/LCD TVFull HDD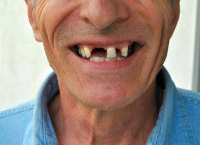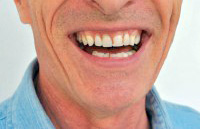 Before After

All-ceramics – brief description of technology
All-ceramics crowns and bridges represent absolute leading edge of modern dental medicine. They present fixed dentures without metal construction. That is made by CAD/CAM technology from Zirconium oxide. Construction from Zirconium oxide is perfectly precise thanks to computer manufacture. On this construction is burnt layer of ceramics. Due to this manufacturing process we are able to achieve engraining and transparentness of tooth from depth, better permeability and reflection. In a high quality aesthetically made all-ceramics tooth cannot be sometimes recognized from real one even from specialist. All-ceramics teeth are suitable, after indication from dentist, for anybody who does not wish to have any metal in mouth, which causes unwanted dark edges necks of teeth, colouring gums by oxidation, allergies. Zircon crowns and bridges, how they are sometimes also called, are not only the most solid ceramics dentures nowadays but also they have similar physical qualities (they extend by heat, contract by cold) for which they are indicatively more suitable than metal-ceramics dentures.

Comfort and aesthetics of all-ceramics
Dentures made of Zirconium Oxide ceramics are designed for reconstruction or replacement of teeth both in the front and the back sections.
Since Zirconium Oxide is the supporting structure instead of metal frames, these dentures embody all the advantages of ceramics, or they eliminate all disadvantages associated with metal:
Metal-ceramic metal frames block the passage of light.
Such dentures are (especially at the tooth neck) grey, dark and unnatural. Metal-ceramic dentures can sometimes have an unnatural shape. The crown is not naturally slim and the cutting edge is blunt, because a hard-ground tooth snag and the necessity to overlay metal do not allow modeling of a natural and functional tooth.
In comparison, all-ceramic dentures transmit light through Zirconium Oxide construction in the same way as natural teeth. Thanks to this feature it is possible to model the denture shape much more precisely and gracefully.
For these reasons, all-ceramic dentures not only maximize aesthetics, indistinguishable from natural teeth, but they also offer maximum functionality!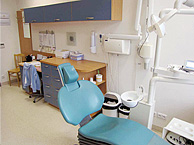 If you would like to improve your smile with all-ceramics denture, which is nowadays the latest prosthetic treatment, you will find in our group dental doctors who can speak English and who according to my more than 20 years lasting experiences in profession belong to the best.
We have been co-operating with these doctors more than 10 years and to all of them I would consign to their treatment myself with trust.
Jiri Sedlacek – technician dental manager and owner dental laboratory JS LAB
Dental treatment price list - in Czech Crowns
Full Ceramic Crowns
9 500,- (up to 3 crowns)
Full Ceramic Crowns
7 700,- (4 and more crowns)
Full Ceramic Crowns
6 600,- (10 and more crowns)
Metal Ceramic Crowns
7 500,- (up to 3 crowns)
Metal Ceramic Crowns
6 500,- (4 and more crowns)
Metal Ceramic Crowns
5 800,- (10 and more crowns)
Close up Oral X-ray analysis
300,-
Complete head-surround panoramatic X-ray and analysis
620,-
Tartar,plaque clearing and removal
2 600,-
Amalgamate filling with local anaesthetic
920,-
Photocomposit fillingwithlocal anaesthetic
1265,-
Simple extraction with local anaesthetic
990,-
Complicatet extraction with local anaesthetic
3 300,-
Root canal treatment – 1 root canal
990,-
Photocomposit build up
2 400,-
Temporary resinal bridge or single tooth
690,-
A temporary resinal bridge of up to 6 teeth
1 980,-
A temporary resinal bridge of more than 6 teeth
3 960,-
One glass fiber or one metal inlay
1 980,-
Implant/Complete price including metal-ceramics crown
35 420,-
Implant /Complete price including all-ceramics crown
37 420,-
Partial Prothesis Deflex
15 400,-
Weekend treatment – 1 day
3 420,-

1 Euro = 25 Czk