Liberec Dental surgery
STOMA - Hygieinos, s.r.o
Husova 29/1,
46001 Liberec 1

Dental surgery web site:
www.stomah.cz
Surgery email:
stomah

tiscali.cz
Surgery phone number:
00 420 485 177 777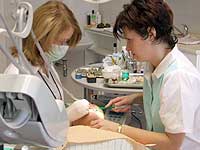 Surgery treatment

Our in house panoramic
x-ray equipment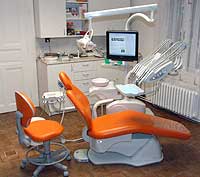 Modern up to date
dentistry equipment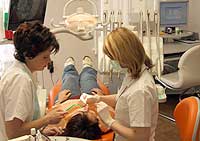 A patient getting
dental treatment
Our dental surgery is composed from a professional team
of dentists, nurses and dental lab technicians.
Our surgery offers a complete range of dental treatments using modern diagnostic equipment and therapeutic technology and the most up-to-date dental knowledge obtained during specialized theoretical as well as practical courses which all our dental surgeons undertake periodically.
We use digital examining technology, which enables us to diagnose micro defects of individual teeth, or examination by remote X-ray, which is necessary for diagnosing orthodontic anomalies in children.
Although we use standard technologies and methods in our work we are however one of the very few dental surgeries in the Czech Republic that is able to treat patients using the modern laser method, which is painless and therefore minimizes the fear of stomatological treatment.
Overview of dental services provided by our dental team:
General check up panoramic X-ray, close up x-ray,
Bite-wing, tomography / Planmeca ProMax

Implantology - see below

Complex dental surgery
- simple and complicated extraction
- soft tissue surgery

Prosthetic Dentistry:
- metal ceramic crowns, metal ceramic bridges
- photocomposite inlays, onlays, veneers and crowns
- partial, skelet removable dentures, complete dentures
Root canal treatment
Fillings:
- photocomposite fillings
- amalgamate fillings
- filling substitution

Laser teeth whitening
Periodontal treatment ( gum disease treatment )
Preventive dental care

Specialistic dental treatment areas:
Implantology and dental implants
We offer solutions for a missing teeth also for extensive defects including solutions for a completely toothless jaw with the help of implants and a fixed matalceramic bridge.
We prefer the same day loading which means applying the temporary bridge the same day as the implants are inserted.
This is a great help to patients with no teeth who do not have to continue to wear dentures during the implant healing period.

Dental Laser Treatment
Laser teeth whitening
Treatment of deep caries, fissure sealing
endodontic treatment and root canal treatment
periodontal treatment
oral surgery
Advantages of laser treatment:
The treatment is painless, without bleeding nor swelling.

Aesthetical dentistry:
We can change your smile, the colour of your teeth, their shape and position of your within a day.

More information: www.stomah.cz

Please feel free to contact us via e-mail with your
requirements and we will get back to you as
soon as possible.
Our email: stomah

tiscali.cz
Phone number: 00 420 - 485 177 777

Last but not least here is a link to information about Liberec so that you can also get information on what to do during your dental sessions.
www.infolbc.cz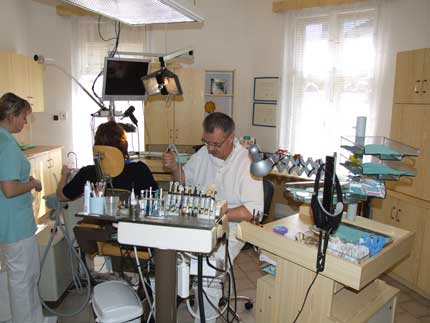 Another view of our dental surgery