Dentist Zdena Celisova:
Komenskeho, 790
464 01 Frydlant
Liberec Region
Czech Republic
Tel: 00420 - 482 312 363
Mobile: 00420 - 721 827 313
[ please phone during surgery hours ]

or e-mail us whenever you like:
email: z.celisova

atlas.cz
Dental surgery website:
www.mujweb.cz/www/celisova

Click on images to open
larger in new window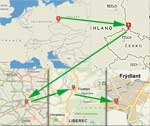 Where we are on the map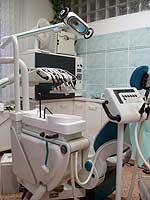 Modern up to date
dentistry equipment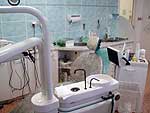 The dental surgery
Very close to the German border and nearer to Dresden than Prague, the dental studio of Zdena Celisova offers professional dental treatment at accessible costs.
We speak English and German and we are experienced
in treating international dental patients.
Please feel free to e-mail us your dental treatment requests describing the dental situation, what you think you may need in dental treatment and we will be pleased to get back to you with a dental treatment cost estimate, probable duration of the dental treatment and any other details you may wish to know.
Otherwise you can also phone for information from 10 am onwards during our surgery hours (please see below )
Specialistic dental treatment areas:
Ceramic Crowns
Metal ceramic Crowns
Complete dental Bridges
Dental Inlays / onlays
Dental treatments available:
Panoramic X-rays
Teeth Cleaning and Polishing
Tartar, plaque cleaning - airflow
Teeth Bleaching ( chemical )
Extraction - simple
Root Canal Treatment
Amalgamate Fillings
Photo composite Fillings
Fillings substitution
Ceramic Crowns
Metal ceramic Crowns
Bridges
Partial Removable Dentures
Complete Removable Dentures
Temporary Resinal Crowns

Surgery opening hours :
Monday - 9.00 - 12.30 / 13.00 - 17.00
Tuesday - 7.00 - 11.30 / 12.00 - 15.00
Wednesday - 9.00 - 12.30 / 13.00 - 17.00
Thursday - 7.00 - 13.00
Friday 7.00 - 13.00
Accommodation:
We can accommodate you in one of our appartments available for dental visitors or if you prefer book you into one of several nice local pensions or hotels in Frydlant for your dental treatment holiday in the Czech Republic.
Frydlant is situated in the North of the Liberec region in the Czech Republic. You can visit many interesting places in this region during your dental treatment visit.
More on:
www.infolbc.cz/indexen.html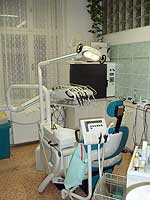 Another view of our dental surgery