Welcome to our advanced dental studio and surgery
We offer all general dental treatments, have a highly qualified team of dentists and stomatologists who speak english.
We can also organize your local transport, accommodation and even entertainment between your dental treatment sessions.

Here are just some of the dental treatments we offer - please see our website for further details.
Dental Implants
Implants are artificial replacements for lost tooth root.
With their help, you can create a tooth or teeth, which aesthetically and functionally replace the original missing tooth.
Implants are now becoming a more common procedure,
and this treatment is intended / viable for all patients.
We have specialist implantologists within our team who have years of experience in dental implantology.
Dental implants offer firm bonding with bone tissue thus allowing new solutions for patients lacking roots fit for other dental treatment.

Example of before and after implantation:

Ceramic Veneers:

Ceramic veneers are the most technological advanced
method of restoring the beauty aspect of a smile.
This treatment consists of ceramic facets used as replacement of a thin layer of the tooth surface. and is based on trimming the outer layer of enamel of the tooth, and then applying - gluing the ceramic veneer.
The ceramic veneer is prepared / made in kilns at high temperatures, and therefore at least two visits are needed.


Teeth Whitening
Teeth whitening is a cosmetic procedure during which the action of active substances is applied to teeth to obtain various levels of 'whiteness'.
Teeth whitening or 'bleaching' is performed in one visit and takes about an hour after which you can evaluate the result.

Example of before and after of teeth whitening:

Root Canal treatment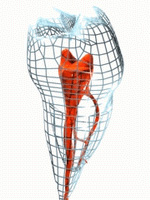 The first filling of the tooth is also the first step
towards the loss of that tooth.
The possibility of endodontic treatment - root canal treatment - allows us to significantly extend the life of a tooth.
Basically the treatment consists of cleaning out the bad parts of the root canal, and then inserting a three-dimensional filling to prevent further transmission of the bacteria into the bone.
Before the final filling of the root canal it is first necessary to exclude the presence of inflammation.
Therefore, depending on the extent and type of
bacterial infection often more than one visit is needed.
Information about Doctor Baran -
team leader of our dental studio and surgery in Ostrava:

He graduated in 2001 at the Medical Faculty in Olomouc.
Long-term experience with aesthetic dentistry,
mikrostomatology and treatment of periodontitis.
Several professional stints abroad,
mainly in Great Britain and the USA.
Since 2006 he has worked part time in the dental
surgeries of DENTICS in Ostrava and in London.
He is the author of many articles on aesthetic dentistry and microstomatology - published in professional journals in the Czech Republic and abroad.
In these fields he also lectures in theoretical and practical courses for colleagues.

Postgraduate study

University of Central Lancashire
Institute for Postgraduate Dental Education,
Clinical Restorative Cosmetic Dentistry
University of Central London
Eastman Dental Institute
practical teaching Aesthetic Dentistry
The Royal College of Surgeons of England
practical teaching periodontal plastic surgery,
focusing on the use of PRP (plasma rich plattelet)
University of Newcastle
Multidisciplinary cooperation in aesthetic dentistry.
Member of the following bodies and association:
Czech Academy of Dental Aesthetics
British Society of Perio
British Academy of Cosmetic Dentistry
General Dental Council
British Dental Association
Czech Dental Chamber
When he is not in the surgery he spends
time with his wife and two sons.
If there is any remaining free-time he enjoys sports, especially beach volleyball in which holds the title of world champion between doctors and health professionals.
We look forward to hearing from you.