Dental Clinic
Dentim - Prague


Dentim s.r.o.
Dr. Tibor Imre
Janovskeho 34
170 00 Prague 7
Phone: 00420 - 220 801 820
Mobile: 00420 - 774 990 805

e-mail: dentim

dentim.cz
Please feel free to contact us.

www.dentim.cz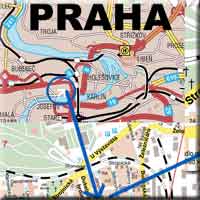 Click Map to see
where we are
Here is a short price
list of some of
the dental treatments
we offfer:
Dental Hygiene
from Czech Crowns 650
X - rays and examination
Czech Crowns 300
Amalgamate filling with local anaesthetic
from Czech Crowns 850
Photocomposite (white) filling with local anaesthetic
from Czech Crowns 1250
Root canal treatment
from Czech Crowns 990
Teeth whitening
Czech Crowns 4400
Ceramic Crown
Czech Crowns 6800
Complete Dentures
Czech Crowns 8500
Welcome to Dentim,
Doctor Imre's dental center and dental surgery in Prague.
We are a dental treatment center with up to date equipment, always updated dental medical know-how and we also have our very own in-house dental lab.
The Dentim center is made up of two dental surgery rooms, and one dental lab and we use the most progressive materials and dental technologies available.
Our main aim is to make your visit to the dentist as pleasant as possible and we are experienced in offering top quality treatment to international dental patients.
Feel free to write us an e-mail :
dentim

dentim.cz
www.dentim.cz
explaining what your dental treatment needs are and we will be happy to offer advice, a dental plan and a cost quote for the needed dental treatment.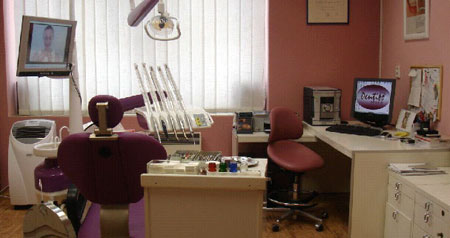 The Dentim dental center specializes in the following
dental treatments and dental technologies :
Restorative dentistry:
Preventive examination
Treatment of acute cases and toothache
Esthetical dentistry
Teeth whitening, white fillings (photocomposite)
Endodontics:
Root canal treatment, root fillings
Dental Hygiene:
Teeth sanding, tartar removal teeth polishing
Prosthetic dentistry:
fixed dental crowns and dental bridges, temporary crowns, removable bridge dentures
Parodontics:
Medical treatment of gums
Pediatric Dentistry:
Medical treatment of decidious / mixed teeth
Other dental services:
sale of materials and tools for dental hygiene

Our dental equipment:
USA made digital depictive system RVG Dr. Suni:
This system is a worldwide standard and minimizes the x-rays influence on the patient's health. and intraoral x-ray pictures are immediately displayed on the monitor.
Intraoral X-ray Planmeca Intra:
Another worldwide standard in dental radiography made in Finland
Intraoral camera SuniCam:
See close up the state of your teeth and then compare after dental treatment is completed.
Austrian produced wireless polymerization LED lamp:
Used for solidifying the white photocomposit fillings to shorten the time needed for this process.
Prophy-Mate NSK:
A Japanese instrument used for sanding, de-pigmentation, stain, plaque and tartar removal, teeth whitening and cleaning
Propex:
A Japanese Apexolator of the 3rd generation and is used for measuring the root canal's depth, which enables a precise estimate of the root canal's filling length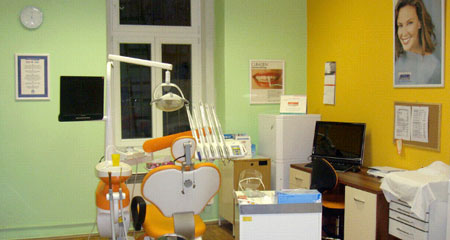 Our in-house dental Lab:
Having one's own dental lab in house has it's advantages.
The lab technician is right next door for final fitting modifications, and above all allows us to cut down the dental lab waiting times which ensue if one has to send casts to another location, wait to get them back, and have to re send the semi finished crowns or bridges for final modification if necessary.
In our lab we produce a
complex set of dentistry products:
Fixed prosthetic work
Fixed ceramic crowns
Fixed ceramic bridges
Removable prosthetic work:
Partial - simple skeletal elements
Hybrid - complete dentures fixed by manipulating a few buttons and levers
Total - replacement for all teeth with stress placed on individual needs of each dental patient.